From News14.com:
STATESVILLE, N.C. -- The Statesville Fire Department says it is looking for an arsonist after five homes, all within a mile of one another, went up in flames early Thursday morning. Fire officials say all of the fires are suspicious in nature and appear to be connected.
"It's unusual to have that many fires in one evening, and to have that many suspicious fires, we do think they're related," said battalion chief Jeff Leaptrott. "It's very unusual for us to have that many at one time."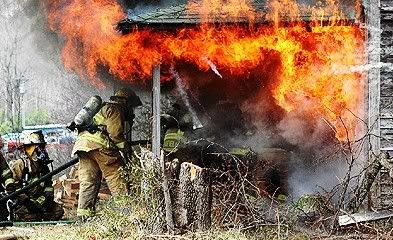 The first call came in around 2:30 a.m. for a home off Buffalo Shoals Road. The next came an hour later on Hill Street. The third call was around 4 a.m. on South Oak Street, the fourth fire was set around 6 a.m. on East Bell Street and the last around 9:30 a.m. on Connor Street.
"It's scary that somebody would be bold enough to do something like that," said Martha Soto, who notified authorities about the fire on Bell Street, "not knowing if the home is occupied or unoccupied."
The State Bureau of Investigation spent the morning with a K-9 unit searching the homes for any evidence. They're trying to determine exactly how and where the fires started. Investigators say at least one of the fires was started from inside the home and all the homes burned were either vacant or under renovation.
The Statesville Police Department will be on alert Thursday night just in case arsonists try to hit again.