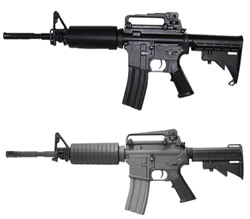 Burglars who forced their way into a secured Contra Costa County sheriff's lot ransacked several patrol cars and stole weapons inside.
Three Colt semi-automatic assault rifles and a Remington shotgun were taken from cars parked in the lot at 1900 Muir Road between Monday night and Tuesday morning.
The break-in is similar to one in mid-December at a California Highway Patrol field office lot a little more than a mile away, at 5001 Blum Road, during which CHP cruisers were broken into and rifles and ammunition were stolen.
In the most recent incident, the burglars cut through a fence and used "heavy-duty equipment" to pry open the patrol car doors. In one instance, a softball-size hole had been bored into a car's door panel.
In freeing the weapons that were secured by harnesses and electric locks, the burglars severely damaged the cars.
The lot has no video surveillance. Investigators believe that multiple burglars were involved, and that they are locally based.