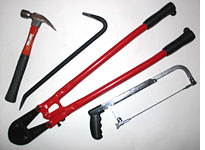 A city worker was blind sided at an abandoned home on Tuesday. It happened at 9875 South Darin Drive in Sandy City.
The code enforcement officer was responding to calls that a squatter may be staying at the home.
When he came around the back he met an individual who assaulted him with a two-by-four.
During their search for the suspect, they came across another place along State Street and 1000 South.
The abandoned house was a few hundred yards away from City Hall and it was filled with teens. There's no heat, electricity or plumbing, but its home for those out on the street.
http://www.abc4.com/content/news/top%20stories/story.aspx?content_id=c35119c3-cf93-4f0d-9df7-fac898a3fa45