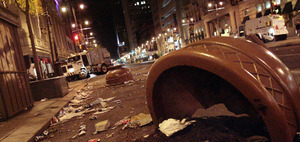 PHILADELPHIA:
With two overturned cars, numerous bonfires, tear-gas canisters, and a busload of riot cops, last night proved to be one helluva wild and out-of-control celebration!
When the Phillies won the World Series a crowd converged on City Hall, a mob that was festive, joyous, riotous and destructive.
Many stores were looted and many fires were set. A local CBS news truck was also being pushed around by fans at one points.
South Broad Street stood desolate after riot cops secured the area by pushing thousands down Walnut and Chestnut sts., past an overturned and burned out car towards a blackened dumpster, where someone had lit a blazing fire.
The trash accumulating steadily on the street was fuel for several large bonfires beside which people warmed their hands and danced around the flames.
A large fire swelled up on Chestnut Street, a fire that turned out to be an overturned red sedan with a smashed windshield. Phillies fans torched the vehicle on Walnut and Chestnut sts.
Another overturned car stood on its side on a side street closer to City Hall, its windshield also smashed.
WEST CHESTER:
Over 1,000 students gathered in the middle of the street chanting, "Let's Go Phillies!" and singing, "We Are the Champions."
Then the police arrived.
Seeing this, a couple of kids decided that it would be "fun" to bring down a street light. After about five minutes of shaking the pole they succeeded.
The cops started moving in on the crowd, but with no effect. Then the crowd decided not to be intimidated by the police.
A couple of students yelled, "Flip a car!" Soon after, one of the cars started swaying back and forth, and before long it was upside down on the sidewalk. The police looked at each other as if they were saying, "What do we do know?" They couldn't do anything. They were out numbered 1000 to 6. All they could really do was leave.
Another car flipped. By this point there were groups of 15 people on top of each car singing, chanting, and dancing.
It was another fifteen minutes before the cops
came, this time in full force. Sirens were going off as nine cop cars and over eighteen cops arrived back at the scene.
Wearing riot gear, the cops beat their way into the crowd. This proved effective, as it was now one o'clock in the morning and people were getting ready to go back home anyway.
http://www.associatedcontent.com/article/1164432/phillies_win_sparks_riot_in_west_chester.html?cat=14
http://www.philly.com/philly/business/20081031_Phils_euphoria_boils_over_into_vandalism.html
video:
http://mlb.fanhouse.com/2008/10/30/philly-celebrates-with-vandalism-mob-thinking/